Highlights, Specialties & Features
Trash Out
Foreclosure Cleaning
Office Cleaning
Exhaust Hood Cleaning
Janitorial Services
Professional Associations & Certifications
Certified Exhaust Hood Cleaner
Serviced Areas
Payment Options
American Express, Debit Cards, Google Checkout, MasterCard, Money Orders, PayPal, VISA
Business Representative
Products & Services
Janitorial Services/Office Cleaning
We help maintain a clean work space. This service include but not limited to:

Daily, weekly, bi-weekly and monthly schedules
Vacuuming daily debris
Mopping of all hard floor and tiled areas
Empty waste bins and line with new liners
Wipe down all glass areas
Damp-wipe hard surfaces with mild disinfectant
Wipe down door handles, light switches and baseboards
Sanitize and clean all basins, toilets, doors and fixtures in washroom
Refill soap dispensers
---
Move-Out / Foreclosure Cleaning
This is a deep cleaning session to include but not limited to:

Vacuuming
Mopping and disinfecting
Wiping down all reachable fixtures
Cleaning out the appliances
Dusting
Personal property and debris removal
Wiping down or replacing fixtures
---
Exhaust Hood Cleaning
Exhaust Hood Cleaning:
A shinny hood is not necessarily NFPA (National Fire Protection Association) compliant unless you have properly eliminated fire hazards.

Filter Exchange Program:
With our Hood Filter Exchange Service you'll never have to clean filters or replace worn out or damaged ones; we do that for you. We remove your dirty filters and replace them with clean ones; daily, weekly or twice a week.
---
Microscopic Cooking Oil Filtration Service
With "Filter King" Microscopic Oil Filtration machine we can:

Double or even triple (according to some of our customers) the life of your cooking oil.
Improve the quality and taste of your fried food.
Wash your fryer with every cleaning.
Safely transport hot oil to the grease dumpster (when needed) .
So for ONLY $35, or less, per weekly service per fryer, we will:

Save you the cost of replacing your oil
Save you the cost of labor
Save you the mess involved in replacing your oil
Save you time because it only takes less than 7 mins to filter your oil per fryer
It is the only microscopic filtering machine out there that wont break the bank.
Videos
Microscopic Oil Filtration Machine
Contact Us: info@oreescleaning.com to request a quote for our oil filtration service.
Social Activity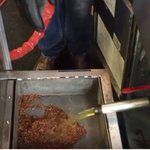 Every Restaurant Should Use This Service Call us 240-722-7484 https://t.co/kGnDFomHwy https://t.co/tv6eVVcuae
Start your hood cleaning company the right way! Get Certified Today. #hoodcleaning #cleaningcompany #NFPA #startups https://t.co/MQes6NrSKl
Nearest Businesses